Who hasn't heard of
Rome
, this is the place where great civilizations thrived. The history of Rome dates back to around 753 BC and is full of colorful accounts of drama and power.
Rome is home to over 3 million people and uses the Italian language as its main language. Tourists from all over the world travel millions of miles just to be able to come to Rome. If you look at a map, you will see that Rome, the capital of Italy, is located in between Sicily and France.
The climate in Rome is quite interesting since it is close to the Mediterranean Sea. The climate is quite pleasant, making it an ideal vacation spot. There are no extreme heat waves except in summer. This is why in August, fro two weeks, people close shop and move to a cooler area. It is at this time that the climate can be unusually hot.
The attractions of Rome are so varied and many that it would not be possible to see everything on your first trip. That is, unless you stay in Rome for a couple of months.
Some of the tourist attractions in Rome are the Collosseum, the Vatican, the Forum, all the different Piazzas, the Trevi Fountain, the many museums and parks around the city.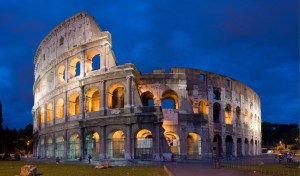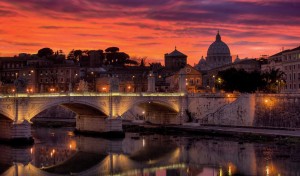 Some of the most beautiful churches are in Rome. In fact the largest known church in the world is St. Peter's. This is also the residence of the Catholic Pope. The lines to enter this great church is very long most of the time. If you want to get a head start, try going a little early to beat the long lines.
Most churches have a dress code which you must respect always. Officially, shorts, short skirts, and bare shoulders are not allowed. There have been times, when tourists have been denied entry to the church for exposing their knees. So expect a certain amount of scrutiny.
The reason for this strict code is because it has always been encouraged to dress appropriately in church. For other smaller churches, it is possible that there are no dress restrictions.
Travel to Rome is very easy. It's like a skip and jump away. If you are coming from the US, temperature wise, you will not have too much adjusting to do. You might have to be a little careful about traveling solo. The problem with traveling alone as a tourist is that it can get pretty lonely. In addition, you become easy prey fro criminals looking for an easy buck.
Why not try to find a friend or family member to hop on a plane and enjoy Italy and Rome with you for a couple of weeks. It's always much better to be able to share experiences, memories, and even expenses with someone else.