Oslo, the capital of Norway since 1814, is the biggest city in the country. Here you can find Government, Parliament, and the Royal Palace, which can be found at the end of Karl Johans gate – Oslo's main street.
Oslo is an amazing mixture of beautiful green scenery and exciting city life. It's location at the head of the Oslo Fjord, which causes it to be surrounded by forests, islands, and mountains. Out of Oslo's total area, 454 km square, more than half of it is made up of forests alone. Even if you're in the heart of the city, a park will always be nearby and the beaches on the Oslo Fjord islands are only a ten minute boat ride away.
If you're into outdoor activities, you're in luck! Oslo boasts of 8 ski centers and 343 lakes. In fact, 2007 Reader's Digest named Oslo the 2nd greenest, most livable city in the world!
Not to be outdone, the city also offers numerous attractions, shopping areas, and unique restaurants. There's culture on every block. From five star dining experiences to dog sleigh rides on the snowy mountains, you name it, and Oslo's got it.
Oslo is both a summer city and a winter capital. Because of the Gulf Stream coming from the Gulf of Mexico, the climate isn't as harsh as you would expect. On a sunny day, citizens like to make the most out of the weather by holding picnics in the parks and going boating in the Oslo Fjord.
On a snowy winter day, they bring out their skis and head out to the slopes. Honestly, is there any other city where you can go ice skating, kayaking, and island hopping?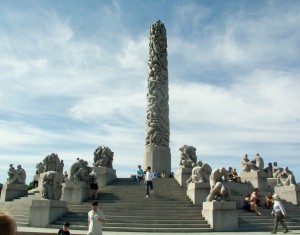 With so many attractions, Oslo can easily be compared to a giant resort. The only difference is that Oslo is not that crowded. With over just half a million inhabitants, long lines won't be a problem.
If you plan to visit Oslo, you should get yourself an Oslo Pass. It's the cheapest and easiest way to fully experience the city. The pass offers free parking, public transportation, admission to museums and sights, and other attractions. You can also avail of discounts for ice skating, amusement parks, and car rentals.
It's a tourist's dream pass because it eliminates the need to line up and buy tickets, which can take up some time, even in a city like Oslo.
One of the best features of Oslo, aside from its climate and attractions, are the people of Oslo. The Norwegians are by nature easy going, fun loving and friendly people. You will not have a difficult time getting to know the locals, nor talking to them about their country. Norwegians are extremely proud of their country and will never let an opportunity go by to extol the beauty and grace of their country.
Visit Oslo, the most beautiful city on Earth by any standards. The clean, crisp air will keep you feeling young and refreshed, while the vigor and vitality of the city will give you energy to learn and experience Norway more.